Hey Friends! I'm so excited that it is Friday because it means that the Loving My Thrifted Home link-up is back today! I enjoyed checking out your link-ups from last week & can't wait to see what everyone has to share this week.
Last week I shared our DIY Shelves so this week I thought it would be fun to share the DIY Wall Gallery in the same room. This room has been a work in progress for the last two years & I'm loving seeing it come together. Before you get started on your wall gallery print off the pictures in the correct sizes to fit the frames. Grab a few prints to add to your gallery that are meaningful. I purchased a print from the Naptime Diaries Shop when she had a wonderful sale going on, found a few free printables on Pinterest, and then printed family snapshots off for the wall.
Printed Pictures & Prints $14
(I used Walgreens photo center to print off my pictures.
I waited for a 40% off sale on prints & grabbed the FREE print deals on 8x10's)
we hit up a thrift shop & bought all of our frames for $8
we grabbed a hanger & spray painted all the frames at once on the deck.
Noah & Johnny helping me arrange the frames
Snapping a picture as a reference really helps to make the hanging process go very quickly.
Grab a friend (I grabbed my hubby) to help hang all the framesOnce we started hanging them it took under 5 minutes to finish!
Almost done. Take a step back & review the arrangement.
Make a few changes if you need to.
Thats all! Such an easy project that I regret dragging my feet on for so long. I had convinced myself that it was going to take forever to make a Wall Gallery that I would love. Not true. In all this project took me about 3 hours to search for frames, print off, spray paint, and arrange pictures. Not long at all. So happy we finally put together a collection of sweet memories for our home. I love sitting down on the couch to read & every now and then glancing up to see them. Do you have a wall gallery in your home?
If so, I'd love to see it! Link up your DIY projects, thrifting finds, recipes, and more below from your blog or facebook page. If you would like to co-host next weeks link-up let me know! Be sure to link back to These Happy Times.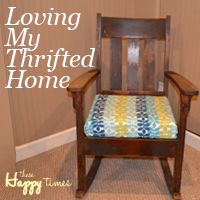 Feel free to grab a button.
Happy Friday!
~Brit