that short list of words describes this last week for us. Our little family has had a pretty emotional last seven days. Remember last Thursday when I shared this post? Later that day I learned why the Lord had woken me up early to spend some extra time with him that day. He wanted me to know that he cares for me. deeply. The next 24 hours were just very emotional. hard. unexpected. Without sharing much - I'll just say that things are okay now. Kinda vague, but we are just not at a place to share just yet. we will be. I want to be honest in life & what I'm writing about. A commitment I made was to be honest with my blog. It is a lifestyle blog. Life happens. It is not always perfect, pretty, and things are not always happy go lucky. Thats ok. Thankfully we serve a Lord who is our strength when we are feeling weak. There will never be more perfect comfort than that. Never will there be more peace, grace, and love in anything but Jesus.
In him, my hope lives.
but, guess what i've been up to the last 2 days?
I've been snuggled up to this precious boy.
he may be 2.5 but he is still my little baby.
he is so precious. he lights up my heart like I just met him for the very first time.
he stops me in my steps at least 10
x's
a day & I think to myself, "Really, God. He's mine?"
So, yes - this week the sickness has hit our home. hard. like really hard.
okay. maybe i'm exaggerating a teeny bit. but really, no. no, i'm not.
Monday I slept all day for the most part while Noah was at MDO.
Johnny got sick & took 1/2 a day on Tuesday.
we've been hanging out in bed watching cartoons way too much this week.
Tuesday, I took Noah outside for some fresh air.
He was going stir crazy in the house with us.
I got dressed from the waist up. Cute top & pajama pants. That getting dressed from the waist up really took some effort on my part friends, ha! Just saying.
I glanced through my new BHG magazine for bit.
Noah was thrilled to find 3 new friends. Worms.
He carried them around in a little medicine cup.
Look at that smile on him! So proud.
We ordered pizza for dinner on Tuesday night.
Then Johnny made the executive decision to get us all out of the house & go for a long drive.We needed a distraction from the emotional past few days & the sickness. lol. W
e listened to some seriously fun music & had a little dance party in the car.
We hit up all the good red lights in town. Exchanged some kisses. Coughed up a lung or 2. Grabbed cough drops & more meds. Then hit up Starbucks for tea.
After putting Noah to bed we stayed up way too late talking & slow dancing in our room.
We went to bed at 1 am & Noah began throwing up by 2. lol.
I love that we stayed up too late hanging out together. It was worth it.
Noah & I have not really left the house much since Monday. Oh my.
For some reason, probably because I'm too sick to notice, this hasn't bothered my on the go-go-go personality much at all. Instead I've been enjoying lots of sick snuggles with my baby boy & listening to really good music.
The Music on the Ipod this week:
Click on each one to check them out!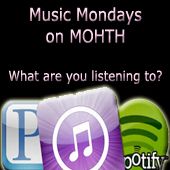 Happy Day!
~Brit